GIS application in the characterization of energy performance of residential building stocks
Palabras clave:
SIG, parque edificatorio
Resumen
Despite the recent legislative advances in terms of energy
savings in the building sector, it is still responsible for a high
percentage of the total energy consumption in the European
Union. In the specific case of Spain, this is due to the fact that
more than a half of the residential building stock was built before
this new regulatory framework. So, they do not meet the
necessary constructive requirements to provide the optimal
comfort conditions for its occupants from the energy efficiency
viewpoint. This study aims to demonstrate the utility of the
Geographic Information Systems (GIS) to perform the energy
diagnosis of existing urban areas. To do this, a methodology
for the energy assessment of the residential building stock has
been developed. The use of GIS enables information processing
and provides a visual and intuitive interface to graphically
represent the results in urban energy maps. The results of this
study allow the graphic identification of buildings according to
their energy performance. The proposed methodology is a tool
to assist the stakeholders involved in urban regeneration processes
when identifying the areas with greatest energy vulnerability.
This methodology is a useful tool for decision-making and
prioritization of actions.
Descargas
Los datos de descargas todavía no están disponibles.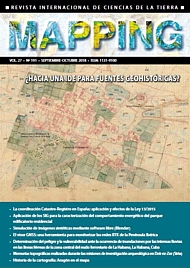 Descargas
Cómo citar
Braulio Gonzalo, M., Bovea Edo, M. D., & Ruá Aguilar, M. J. (2018). GIS application in the characterization of energy performance of residential building stocks. REVISTA INTERNACIONAL MAPPING, 27(191), 14–21. Recuperado a partir de https://ojs.revistamapping.com/MAPPING/article/view/120
Sección
Artículos Científicos