New flight and urban orthophoto of the autonomous communitiy of basque country in 2017
Palabras clave:
Euskadi, geoEuskadi, suelo urbano, vuelo
Resumen
The Basque Government has carried out in 2017 a new flight
photogrammetric and a new orthophotography with 10 cm of
resolution of all the urban areas of the autonomous community
of the Basque Country. These products are disseminated through
the SDI (Spatial Data Infrastructure) of Euskadi, geoEuskadi, being
available all the information related to this project for any person
or organization.
This article tries to present both products and to explain their
characteristics and forms of diffusion, so that any interested
person can access the information of this initiative.
Palabras clave:
Descargas
Los datos de descargas todavía no están disponibles.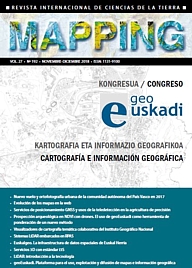 Descargas
Cómo citar
Martinez de Ilarduya Abarquero, I. (2019). New flight and urban orthophoto of the autonomous communitiy of basque country in 2017. REVISTA INTERNACIONAL MAPPING, 27(192), 6–11. Recuperado a partir de https://ojs.revistamapping.com/MAPPING/article/view/122
Sección
Artículos Científicos