GNSS positioning services and the uses of remote sensing in precision agriculture
Palabras clave:
geoEuskadi, VRT, Sentinel, Galileo, Copernicus, GNSS
Resumen
The use of data from all types of sensors, both in-situ and remote,
together with positioning via GPS/GNSS, offers the possibility of
generating useful recommendations for farmers to make informed
decisions about what actions to carry out in their plots. The application
of optimal doses at the right time and in the right place allows
a reduction of time, costs and impact on the environment, as well as
an increase in yields.
This article shows the importance of the use of the GPS/GNSS systems
in the field of precision agriculture and describes the decision support
system fed by the different sources of information available, paying
special attention to the constellation Sentinel-2 of the European program
Copernicus.
Palabras clave:
Descargas
Los datos de descargas todavía no están disponibles.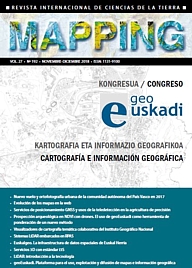 Descargas
Cómo citar
Garitano Plágaro, X. (2019). GNSS positioning services and the uses of remote sensing in precision agriculture. REVISTA INTERNACIONAL MAPPING, 27(192), 18–23. Recuperado a partir de https://ojs.revistamapping.com/MAPPING/article/view/124
Sección
Artículos Científicos