3D services using i3S standard
Palabras clave:
Esri, ArcGIS, SLPK, Scene Layer, servicio Web, i3S, 3D, OGC
Resumen
In recent years, the demand for 3D geospatial content has increased
since it provides a much more accurate view of the real world,
as well as allowing different types of analysis using Z coordinate.
Esri has been working with 3D data as an essential component
for years, always focused on interoperability and efficiency.
Currently, we are in a situation where available 3D content is
large, heterogeneous and needs to be distributed. Therefore,
to address this need and given the importance of standards for
Esri, we developed the specification of an open 3D web service
named i3S (Indexed 3D Scene Layer). In addition, this standard
includes the specification for Scene Layer Package (*. slpk), which
is a container that captures in a file all the information of a scene
layer and allows its direct access from different devices. The
result has been a multi-platform standard for the dissemination
and visualization of 3D data, based on modern technological
standards, recently approved by OGC.
Descargas
Los datos de descargas todavía no están disponibles.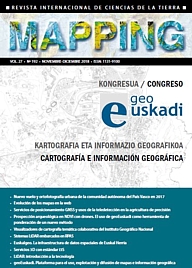 Descargas
Cómo citar
Tejada Mengibar, Y., & Jiménez Viciano, J. (2019). 3D services using i3S standard. REVISTA INTERNACIONAL MAPPING, 27(192), 50–55. Recuperado a partir de https://ojs.revistamapping.com/MAPPING/article/view/130
Sección
Artículos Científicos