LiDAR: introduction to technology
Palabras clave:
geoEuskadi, forestal, LiDAR
Resumen
LiDAR technology is a surveying method that illuminates a target
with pulsed laser light and makes an accurate digital 3D representation.
LiDAR is commonly used in a wide variety of surveying
applications, such as geodesy, geomatics and forestry and it is
also been employed nowadays to develop the control and navigation
systems of autonomous cars. Thus, the aim of this paper is
to explain how LiDAR technology works and how it is employed
to improve forestry and geomatic surveys, explaining how the
LiDAR measurement is performed and some processing steps to
obtain high-resolution LiDAR-based maps.
Descargas
Los datos de descargas todavía no están disponibles.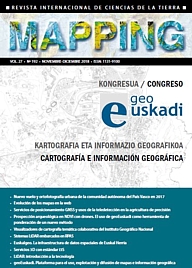 Descargas
Cómo citar
Zubizarreta Gisaso, N. (2019). LiDAR: introduction to technology. REVISTA INTERNACIONAL MAPPING, 27(192), 56–63. Recuperado a partir de https://ojs.revistamapping.com/MAPPING/article/view/131
Sección
Artículos Científicos