Cartographic archive and geographic studies of the Geographical Center of the Army
Resumen
We spread the knowledge of a department of the Army Geographical
Center, the Cartographic Archive and Geographic Studies.
This archive is essential to study the History of the Cartography in
general and the military cartography in particular. Without any
doubt, the aim of this archive is to contribute to the diffusion
of the historical and documentary heritage being an essential
source of information to know the territory ant its evolution. The
historical background, the collection and origin are described
briefly as well as the description of the instruments and the organization
of them. The article finishes with a brief sinthesis of
the challenging and priority project of digitalization.
Descargas
Los datos de descargas todavía no están disponibles.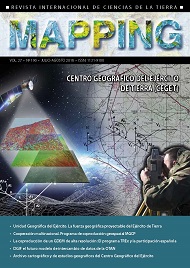 Descargas
Cómo citar
Magallanes Pernas, L. A. (2018). Cartographic archive and geographic studies of the Geographical Center of the Army. REVISTA INTERNACIONAL MAPPING, 27(190), 44–51. Recuperado a partir de https://ojs.revistamapping.com/MAPPING/article/view/147
Sección
Artículos Científicos