Marine Technology Unit Data Service (UTM-CSIC)
Palabras clave:
Datos marinos, metadatos, Geonetwork, Geonode, SeaDataNet
Resumen
The Marine Technology Unit of the Spanish Research Council
(UTM-CSIC) is responsible for the management of oceanographic
research vessels. During the oceanographic cruises, a large amount
of spatial data is acquired and managed by the UTM Data Service,
from data that is automatically and continuously acquired in a
trajectory, such as the temperature and salinity of the sea, to data
that they are acquired in specific points or areas of study, such as
a sound velocity profile in the water column or a bathymetry to
map the seabed.
The purpose of the UTM Data Service is to disclose what data exists
and where, how and when it has been acquired and, in addition,
to provide access to that data. For this, a national SDI is available,
consisting of a Catalogue of Oceanographic Cruises carried out on
ships that it has managed since 1991, with more than 500 cruises,
and a Geoportal that allows the creation of maps combining layers.
The UTM is a National Oceanographic Data Center (NODC) of the
Distributed European Sea Data Infrastructure SeaDataNet, to which
it provides metadata (Cruise Summary Report -CSR- and Common
Data Index -CDI-, ISO19139) and public data to be shared.
Descargas
Los datos de descargas todavía no están disponibles.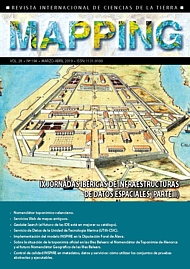 Descargas
Cómo citar
Ruiz Valderrama, J. L., Diez Tagarro, S., Hernández Jiménez, A., & Sorribas Cervantes, J. (2019). Marine Technology Unit Data Service (UTM-CSIC). REVISTA INTERNACIONAL MAPPING, 28(194), 32–42. Recuperado a partir de https://ojs.revistamapping.com/MAPPING/article/view/182
Sección
Artículos Científicos