Quality control of INSPIRE metadata of data and services: how to use abstract and executable test suites
Palabras clave:
INSPIRE, ETS, ATS, control de calidad, compatibilidad INSPIRE
Resumen
The INSPIRE technical guidelines contain valuable information to
ensure that the structure and interoperability of data, metadata,
data series and services complies with the directive. They include
the definition of a set of tests to apply to the files in the final
format.
This article will show how to understand the methodology and
activities necessary to perform a quality control of metadata,
data and INSPIRE services, using the test sets specified in the
technical guidelines.
The XML formats referenced in the technical guides are based on
ISO standards. However, the directive goes further and defines
additional rules to ensure interoperability. These added rules are
structured in specific requirements, contained in the documents
of the Execution Rules. Some of these requirements are grouped
by conformance classes.
Three steps are necessary to perform quality control:
- Define some abstract tests, which define at a high level what
the test does and what the expected results are.
- Develop the executable tests, codifying them, and
- Implement the executable tests in one or application, to perform
the tests themselves.
A practical example will be shown to help INSPIRE implementers
publish metadata, data and conforming services.
Descargas
Los datos de descargas todavía no están disponibles.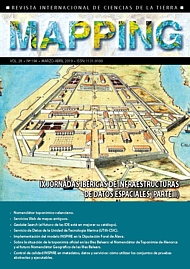 Descargas
Cómo citar
Guinea de Salas, A., & Rodrigo, P. (2019). Quality control of INSPIRE metadata of data and services: how to use abstract and executable test suites. REVISTA INTERNACIONAL MAPPING, 28(194), 58–62. Recuperado a partir de https://ojs.revistamapping.com/MAPPING/article/view/185
Sección
Artículos Científicos