GIS applied to the evaluation of the influence of changes in vegetable coverage on the erosive processes in the basins of the Rocina and Partido streams (Huelva-Spain)
Palabras clave:
Arroyos del Partido y la Rocina, USLE
Resumen
The degree of erosion by rainwater on the ground directly depends
on vegetation cover to cover you. The importance of these
erosive processes depend on a wide variety of factors, which
have been standardized with theoretical models allowing their
quantification and widespread application. Without doubt the
most widely used and accepted in these models is USLE (Universal
soil loss ecquation) which are related factors, it has been shown
experimentally, contribute to a quantifiable manner soil material
removal and hence the development of erosion. GIS (Geographic
Information Systems) help the analysis, interpretation and presentation
of information starting and results.
Descargas
Los datos de descargas todavía no están disponibles.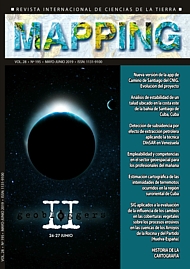 Descargas
Cómo citar
Romero Pichardo, F. (2019). GIS applied to the evaluation of the influence of changes in vegetable coverage on the erosive processes in the basins of the Rocina and Partido streams (Huelva-Spain). REVISTA INTERNACIONAL MAPPING, 28(195), 44–54. Recuperado a partir de https://ojs.revistamapping.com/MAPPING/article/view/209
Sección
Artículos Científicos