Land Administration Domain Model: history from its approval to the present
Palabras clave:
Land Administration Domain Model (LADM), modelos Catastrales, perfiles LADM
Resumen
The International Standard ISO 19152:2012 Land Administration
Domain Model is the unique standard on cadastral and tenure
management. Recently, LADM has been confirmed by the International
Organization for Standardization without changes. In this
study, a brief introduction to the standard is made. After that, a
critical review about the different published proposals and profiles
of LADM will be achieved with special interest on implemented
profiles.
Descargas
Los datos de descargas todavía no están disponibles.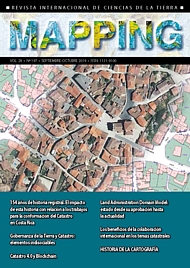 Descargas
Cómo citar
Ureña-Cámara, M. A. (2019). Land Administration Domain Model: history from its approval to the present. REVISTA INTERNACIONAL MAPPING, 28(197), 28–35. Recuperado a partir de https://ojs.revistamapping.com/MAPPING/article/view/229
Sección
Artículos Científicos