The role of IDEAMB in the Metropolitan Area of Barcelona smart city platform
Palabras clave:
IDE, smart city, big data, SIG, AMB
Resumen
During the last five years, the Metropolitan Area of Barcelona
(AMB) has been developing a smart city platform called SmartAMB
with which it intends to respond to the challenges of
greater efficiency in the management of its assets, this being
a clear example of a big data scenario in which the geographic
variable takes a fundamental role. In this context and taking into
account the AMB dimension as an organization, it is vital to have
a spatial data infrastructure (SDI) that facilitates the cataloging,
discovery and use of all georeferenced datasets, which may be
integrated with other data sources to develop the corresponding
analytical data flows in order to facilitate decision making.
Descargas
Los datos de descargas todavía no están disponibles.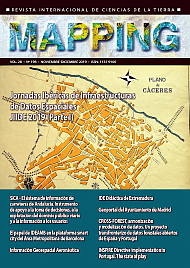 Descargas
Cómo citar
González González, J. C. (2020). The role of IDEAMB in the Metropolitan Area of Barcelona smart city platform. REVISTA INTERNACIONAL MAPPING, 28(198), 12–17. Recuperado a partir de https://ojs.revistamapping.com/MAPPING/article/view/242
Sección
Artículos Científicos