Geoportal del Ayuntamiento de Madrid
Palabras clave:
IDE, Geoportal, Madrid, OGC, datos abiertos, cartoteca, fototeca
Resumen
Madrid City Council, producer of geographical data in digital
format since 1995, has developed and made available a website,
in May 2019, as the main channel for the distribution of geographical
information. This site is based on an IDE (Spatial Data
Infrastructure) in which elements commonly applied in open data
portals have also been incorporated.
Together with the extensive funds provided by the Cartography
department, the Geoportal of Madrid City Council aims to become
the reference website for the municipal geographical data.
The model chosen to get producers ?participation distributed by
the different Areas of the City Council is based on a mixed system
that allows both the direct publication by the producer and the
delegate publication to a central publishing unit.
Since the important reception registered in the Geoportal audience
indicators, the main challenges to increase the attractiveness
and improve with them the acceptance and reputation Among
its users are to expand the quantity and diversity of its data catalogue,
including service in OGC format-INSPIRE, implement the
gazetteer service and incorporate added value functionality such
as geoprocessing services.
Descargas
Los datos de descargas todavía no están disponibles.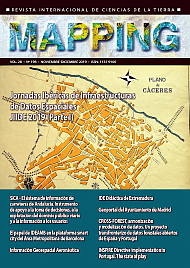 Descargas
Cómo citar
López Borra, C. (2020). Geoportal del Ayuntamiento de Madrid. REVISTA INTERNACIONAL MAPPING, 28(198), 32–37. Recuperado a partir de https://ojs.revistamapping.com/MAPPING/article/view/245
Sección
Artículos Científicos