Open City Toolkit: the role of geospatial science in making open and participative cities
Palabras clave:
Ciudades inteligentes, open data, caja de herramientas abiertas, Smart Cities, participatory citizen, open toolkits
Resumen
The current literature points out two main approaches regarding
the development and enablement of smart cities: on one hand, a
technology-driven approach to make systems more efficient and
autonomous through sensing technologies; on the other hand, a
citizen-driven strategy to educate people so that they can cope
with the technological advances in their cities.
In this context, the GEO-C project (H2020-MSCA- ITN2014) aims to
combine these two approaches by developing an open software
platform, called Open City Toolkit. This platform is a toolbox to
train citizens, developers and public administrations, to facilitate
citizen participation, and to open up cities. These tools include
applications, guidelines, services, and datasets.
The Open City Toolkit aims to integrate different research results
around smart cities. These scientific results are being generated
by fifteen doctoral students who are part of the GEO-C project.
Moreover, the Open City Toolkit will disseminate the progress of
science and technology to end users, to meet the challenges of
open and participatory cities.
Descargas
Los datos de descargas todavía no están disponibles.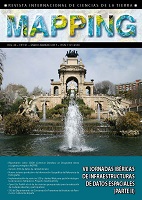 Cómo citar
Trilles, S., Granell, C., Degbelo, A., & Bhattacharya, D. (2018). Open City Toolkit: the role of geospatial science in making open and participative cities. REVISTA INTERNACIONAL MAPPING, 26(181), 42–50. Recuperado a partir de https://ojs.revistamapping.com/MAPPING/article/view/56
Sección
Artículos Científicos