Guide to writing bibliographic references of cartographic documentation
Palabras clave:
Competencias informacionales, norma ISO 690:2013, universidades, cartotecas, Information skills, bibliographical references, standard ISO 690:2013, cartographic documents, universities, map libraries
Resumen
This work is a practical guide for compiling bibliographical references
of cartographic documents in academic and research works,
following the guidelines of standard ISO 690:2013.
It consists of a first part about how to write each of the different
elements of the citation and a second where the models of thirteen
different types of cartographic documents are showed, both analogical
and digital, with examples.
The aim of the guide is to cover a short coming observed in the Spanish
and Portuguese academical ambit, where the guides and tutorials
that different universities have made to teach writing bibliographical
references, cartographic materials are not covered or they are included
in a totally insufficient way, because they do not reflect the wide
variety of existing cartographic documents.
Descargas
Los datos de descargas todavía no están disponibles.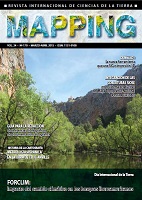 Cómo citar
Rueda Murria, J., & Santamaría Gutiérrez, A. (2018). Guide to writing bibliographic references of cartographic documentation. REVISTA INTERNACIONAL MAPPING, 24(170), 44–56. Recuperado a partir de https://ojs.revistamapping.com/MAPPING/article/view/61
Sección
Artículos Científicos