Verificar datos antes del vuelo
Palabras clave:
AIP, OACI, procedimiento, MILAIP, datos, ICAO, guarantee, verification, data, aeronautics, paper, training, design
Resumen
With the arrival of the new technologies and the increase of the
air operations that are realized inside our airspace, it is necessary
to set up a process that regulates the information transmission
between diverse service providers and the aeronautical information
system.
The data originators play a fundamental role in this process, being
responsible for collecting, managing, producing and transmitting
all the data that allow performing the air operations with full
security.
Descargas
Los datos de descargas todavía no están disponibles.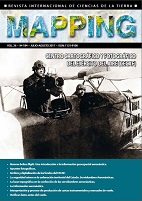 Cómo citar
Ruiz García, J. R. (2018). Verificar datos antes del vuelo. REVISTA INTERNACIONAL MAPPING, 26(184), 66–72. Recuperado a partir de https://ojs.revistamapping.com/MAPPING/article/view/73
Sección
Artículos Científicos