The benefits of the international collaboration on cadastral issues
Palabras clave:
Catastro, Europa, Cadastre, international collaboration, Europe, Latin America
Resumen
This article is intended to provide an overview of international collaboration
in cadastre, describing the European and Latin American
associations in this domain; as well as the main collaboration
initiatives that are now in place to facilitate the access to these
cadastral data, to make possible the real estate market between
countries, to promote the use of Real Estate data as support to
policies on the territory and to deliver these cadastral data to the
society for promoting the development of value-added products.
The article discusses the benefits of this international collaboration
and of the harmonization of data and services.
Descargas
Los datos de descargas todavía no están disponibles.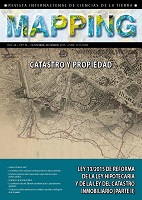 Cómo citar
EDITOR_1, M., & Velasco Martín-Varés, A. (2018). The benefits of the international collaboration on cadastral issues. REVISTA INTERNACIONAL MAPPING, 24(174), 16–25. Recuperado a partir de https://ojs.revistamapping.com/MAPPING/article/view/75
Sección
Artículos Científicos