El gobierno de la tierra en Brasil
Palabras clave:
INCRA, Brasil, Catastro, suelo, Brazil, Cadastre, land
Resumen
This paper shows the Cadastral activity developed by the INCRA,
an institute of socio-economic development that supports its
activities through a land subdivision cadastre. Along with the
creation of an interadministrative database it encourages inter-titling
and population settlement processes in the rural land, with
a strong environmental profile.
Palabras
Descargas
Los datos de descargas todavía no están disponibles.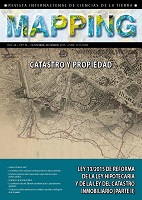 Cómo citar
Martins Torsiano, R. (2018). El gobierno de la tierra en Brasil. REVISTA INTERNACIONAL MAPPING, 24(174), 36–42. Recuperado a partir de https://ojs.revistamapping.com/MAPPING/article/view/77
Sección
Artículos Científicos