Law 13/2015: proclaimed objectives and reforms introduced. Special study of coordination and lack of coordination between the Cadastre and Land Registry
Palabras clave:
Catastro, Registro de la Propiedad, reforma, Cadastre, Land Registry, reform, coordination
Resumen
Law 13/2015 of 24 June, the Mortgage Reform Law approved by
Decree of February 8, 1946 and the consolidated text of the Law on
Real Estate Cadastre, approved by Royal Legislative Decree 1/2004
of March 5 13/2015, clearly formulated with several objectives in its
preamble.
In the first part. of this paper will examine the most important changes
introduced in its art.icles, and in the second part., as especially
relevant issue is discussed from a critical and constructive vision,
what they are, following the entry into force of this law, peremptory
towards coordination between the Registry of Property and Real Estate
Cadastre legal provisions, prohibitive measures incoordination,
and supposedly have to resolve conflicting situations or contradictory
pronouncements.
Descargas
Los datos de descargas todavía no están disponibles.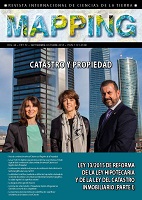 Cómo citar
Delgado Ramos, J. (2018). Law 13/2015: proclaimed objectives and reforms introduced. Special study of coordination and lack of coordination between the Cadastre and Land Registry. REVISTA INTERNACIONAL MAPPING, 24(173), 16–25. Recuperado a partir de https://ojs.revistamapping.com/MAPPING/article/view/81
Sección
Artículos Científicos