The delimitation of farms by their geometric definition derived from its legal description. Concordance between surveying, land registration and cadastral accommodate surface
Palabras clave:
superficie catastral, legal security, cadastral area, Surveying, Geomatics
Resumen
The recent adoption of the Law on Mortgage Reform Law and the
Land Registry, has revived new expectations to the desired and desirable
coordination of Cadastre and Land Registry; two institutions
of nature and different skills but work on the grounds of real reality
and dynamics. It is difficult for two agencies coordinate these characteristics
reach, however, the legal text has been a small step, but
in the opinion of the group of Technical Engineers in Topography is
insufficient, partly because of this refusal to collect certain proposals
submitted during parliamentary procedure.
In this article, we will present the old links of our professionals with
the Land Registry since the creation of the Geographic and Statistical
Institute, later Cadastral Geographic Institute and National Geographic
Institute finally, to move to analyze the weaknesses of some
articles of the Law are we the closest practice and how, in our view,
could have been improved to increase the legal security in property
transactions through the provision of parcel survey in certain cases.
Descargas
Los datos de descargas todavía no están disponibles.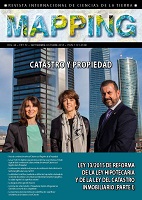 Cómo citar
Castilla Blázquez, M. Ángel. (2018). The delimitation of farms by their geometric definition derived from its legal description. Concordance between surveying, land registration and cadastral accommodate surface. REVISTA INTERNACIONAL MAPPING, 24(173), 38–44. Recuperado a partir de https://ojs.revistamapping.com/MAPPING/article/view/83
Sección
Artículos Científicos