Spatial analysis of the educational supply and demand in the municipality of Villeta - Cundinamarca, Colombia
Palabras clave:
geoprocesamiento, infraestructuras, SABER PRO, Geographic Information Systems (GIS), spatial analysis, geoprocessing, education, infrastructure
Resumen
This paper does a spatial analysis of the supply and demand of the
basic education in the municipality of Villeta (Cundinamarca, Colombia).
There are two perspectives: first a multi-criteria evaluation
for the conditions of efficiency and spatial justice in locating the educational
institutions using variables like contiguity to roads and the
high younger population density and the quality of infrastructure in
terms of building minimum size and sewage quality. Others variables
are the academic performance since the test results SABER PRO 2012.
The second perspective is a description of the supply and demand
through descriptive statistics such as averages percentiles and thematic
maps.
The paper concludes that the conditions of access to number of educational
establishments are good but in rural areas there are minimum
population densities and the infrastructure does not meet a minimum
quality level and an acceptable academic performance.
Descargas
Los datos de descargas todavía no están disponibles.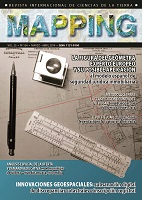 Cómo citar
Barragán Currea, J. R., & Ramírez Pardoc, M. J. (2018). Spatial analysis of the educational supply and demand in the municipality of Villeta - Cundinamarca, Colombia. REVISTA INTERNACIONAL MAPPING, 23(164), 50–62. Recuperado a partir de https://ojs.revistamapping.com/MAPPING/article/view/91
Sección
Artículos Científicos